About PROCURE - The Force Against Prostate Cancer
Every dollar donated to PROCURE goes directly to the fight against prostate cancer and research here in Quebec.
Research
More than 10M$ invested in research via the 4 UHC of Quebec affiliated to the PROCURE Biobank.

More than 200,000 biospecimens of great quality and scientific value provided by 2,000 patients.
Support and Information
Access to a toll-free line 7/7 with nurses specialized in uro-oncology

More than 4,000 interventions with patients and their relatives following a diagnosis since 2015

Over 39,500 participants in conferences led by experts on the disease
Awareness
Large scale campaigns (ex: Bowvember)

More than 1,500 employees reached and educated

More than 80,000 views on our YouTube channel

1,000,000 visits on our website in 2019
Did You Know? Detected early, prostate cancer is curable!
Prostate cancer must come out of the shadows. This disease is too often asymptomatic and surrounded by unfounded taboos. Men are still hesitant to ask for an annual screening test from their doctor (PSA blood test and digital rectal examination).
Simple and quick, screening can detect cancerous tumors at an early stage, which greatly improves the success rate of treatments.
Prostate cancer in Quebec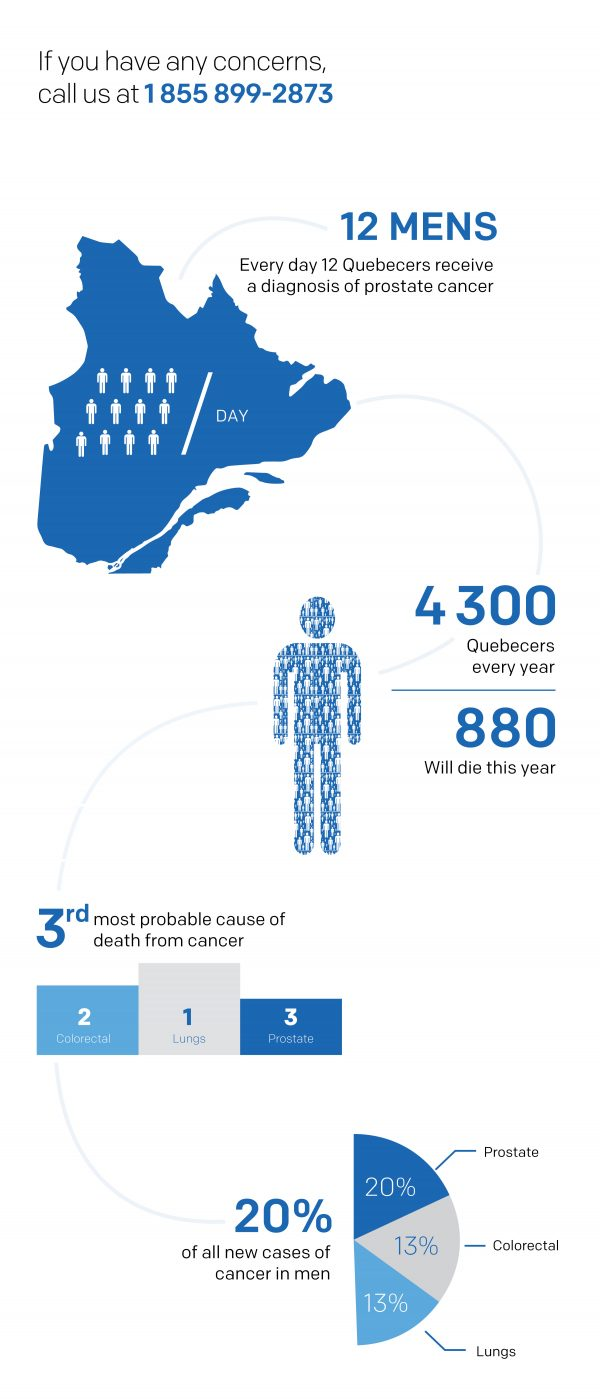 I want to register
Donors
4 days ago
Marc Beaulieu
Et Voilà, Objectif 2k atteint. Félicitations Pierre et Merci de travailler fort pour cette cause que l'on souhaite jamais n'avoir besoin mais qui est si importante. Au plaisir! Marc
5 days ago
Chantal Lajeunesse
9 days ago
Catherine Kappos-Guerreiro
Bonne chance Michel.