Tour Details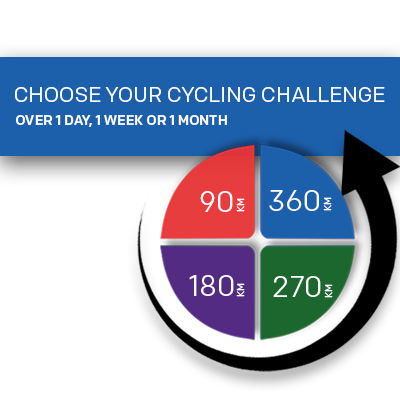 Beginner or advanced cyclist, join the movement and choose your challenge against prostate cancer!
Register before February 28th to get more chances to win a De Rosa bike!
The 12th editon of Tour du Courage PROCURE will be held throughout the month of June. This cycling challenge will come to a close on Father's Day.
12 men per day - including many fathers- receive a prostate cancer diagnosis in Quebec. In June, that makes 360 men receiving the news.
To support these men, we are challenging cyclists from each region of the province to travel up to 360 km in a month.
Choose your challenge:
90 km - 180 km - 270 km - 360 km
You have 30 days to take up the challenge of your choice. The amount of km that you choose during your registration will represent your personal challenge: it is up to you to add or reduce your number of km on your outings.
To encourage you in your challenge, create a team with your family, your friends or even your colleagues… and share your kilometers!
As a family
Take up one of the Tour du Courage PROCURE challenges with your kids and cumulate your kilometers. Transform your family rides in a mission against prostate cancer!
With your friends
You want to pay tribute to the 360 men that will be diagnosed in june, but 360 km exceeds your cycling? Invite your friends to participate in the Tour du Courage PROCURE, create a team and cumulate your kilometers.
With your colleagues
Create a team to stimulate the sense of belonging and give yourselves a common objective. Your team captain can choose which challenge to take up.
Each member will have to register to have their jersey. Solicit your employer to help with your fundraising: many company programs support employee initiatives!
As soon as we'll be able to go back to the office, give yourselves the challenge to get there by bike! In addition to fighting against prostate cancer, the planet will thank you!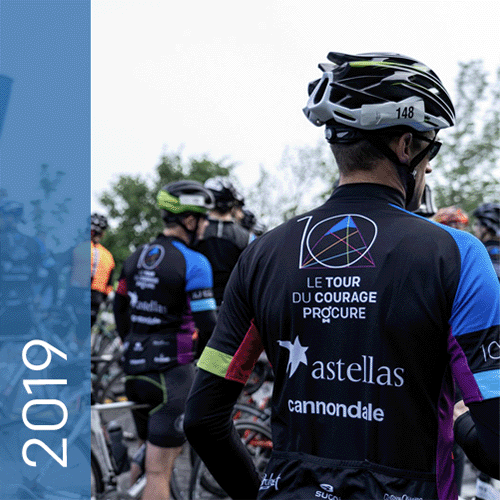 How to register as a team?
Step 1 - Please complete the registration form. Take note that the registration fee does not qualify for an official donation receipt for income tax purposes;
Step 2 - Once you have paid your registration fee, go to your profile, and you will be able to JOIN a team, or CREATE your own team.
Mandatory fundraising goal: $750 minimum (including the $100 registration fee).
To register, click here.

I want to register
Donors
2 days ago
Francis Rheaume
Bravo Luc pour ton implication.
2 days ago
MICHEL CHARTRAND
2 days ago
Martin Lorange
3 days ago
Caroline Bedard
4 days ago
David Baillargeon
Merci pour ton implication!!!!