Tour Details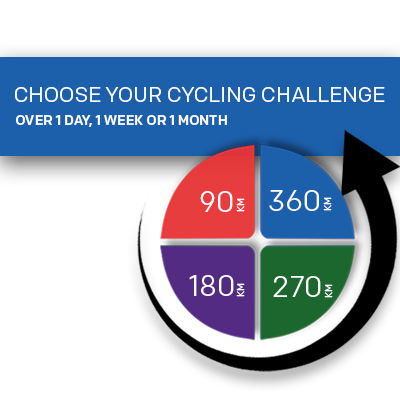 The 11th edition of the PROCURE Tour du Courage will take place throughout the month of September.
Twelve men are diagnosed with prostate cancer every day in Quebec, which means 360 men will hear the news during the prostate cancer awareness month.
In recognition of these men, we are challenging cyclists from all Quebec regions to cover 90km, 180km, 270km, or 360km in one month.
Every day in Quebec, 12 men are diagnosed with prostate cancer.
During the month of September, prostate cancer awareness month, 360 men will be affected by the disease.
Given the magnitude of this statistic, we challenge you to travel 360 km (or less) in 30 days. Support these men in their struggle, one kilometer at a time!
Choose your challenge:
90 km - 180 km - 270 km - 360 km
You will have 30 days to take up the personal challenge of your choice. The number of km you choose when registering represents your personal CHALLENGE. You are free to increase or reduce your number of km during your outings.
Meet at 6 p.m. on Wednesday, September 30 for the awards ceremony and the closing ceremony of this 11th edition by videoconference (Zoom).
Don't take up the challenge alone! Create a team with your family, friends, or colleagues and share your kilometers!
Take up the challenge with your family
Turn your family rides into a sign of support for the fight against prostate cancer.
With your children, take up one of our challenges, ride together, and accumulate your kilometers as a team.
Take the challenge among colleagues
Create a team with your colleagues and give yourself, for example, the challenge of riding your bike to work every day during the month of September to fight against prostate cancer and, by extension, making going to work a green initiative! Your team captain can choose the challenge.
Each member must register in order to receive their PROCURE jersey and water bottle! Ask your employer to help you reach your fundraising goal once it has been set!
Take up the challenge with friends
Would you like to pay tribute to the 360 men diagnosed in September, but 360km seems to be too much? Invite your friends to participate in the PROCURE Tour du Courage and share the distance by creating a team.
For the more adventurous, did you know that 4,320 men will be diagnosed this year? Pay tribute by creating a team of 12 people with a goal of 360 km each and don't leave anyone behind!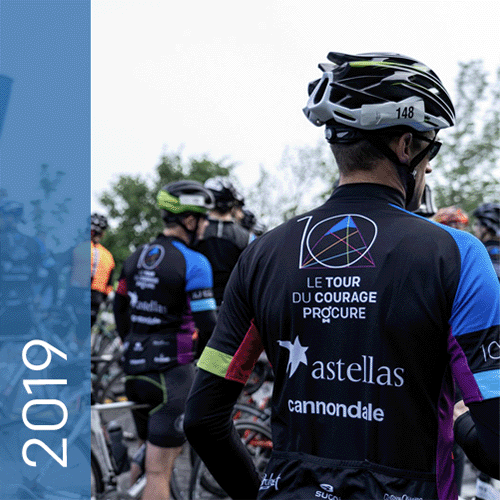 How to register as a team?
Step 1 - Please complete the registration form. Take note that the registration fee does not qualify for an official donation receipt for income tax purposes;
Step 2 - Once you have paid your registration fee, go to your profile, and you will be able to JOIN a team, or CREATE your own team.
Mandatory fundraising goal: $750 minimum (including the $100 registration fee).
To register, click here.

I want to register
Donors
9 days ago
Romeo J. Inc.
Bravo Luc, nous sommes justes en janvier et tu as presque atteints ton objectif! Félicitations!
2 months ago
The Central National Gottesman...
2 months ago
Jean-François michaud
3 months ago
Yves-Andre Bureau